Skyrim:Ammunition
The UESPWiki – Your source for The Elder Scrolls since 1995
This page lists all the ammunition (arrows for bows and bolts for crossbows) available in Skyrim.
[edit]
Arrows
Arrows are the required ammunition for bows. Arrows can not be enchanted or tempered.
Unless the Dawnguard plug-in has been installed, arrows can not be created at forges. However, with Dawnguard, it becomes possible to craft standard arrows using 1 piece of firewood plus an appropriate metal ingot. The appropriate Smithing perks are necessary to craft each variety of arrow, but arrows still cannot be tempered. The pages linked in the following table provide more information.
[edit]
Special Arrows
With the Dawnguard plug-in, two special elven arrows are added; they give different effects when fired at the sun using Auriel's Bow.
Name (ID)
Enchantment
Notes
Bloodcursed Elven ArrowDG


(xx0098a0)

0
6
16
Shrouds the sun in darkness if shot with Auriel's Bow.
Can be made by Serana after completing the quest Kindred Judgment or Touching the Sky, unless she is cured of vampirism.
Sunhallowed Elven ArrowDG


(xx0098a1)

0
16
16
Causes sunburst attacks to nearby targets if shot at the sun with Auriel's Bow.
Can be made by Knight-Paladin Gelebor after completing the quest Touching the Sky.

Bolts (and crossbows) are only available if the Dawnguard add-on has been installed. Bolts are the required ammunition for crossbows. Bolts cannot be enchanted or tempered, but several varieties of bolts can be crafted if you join the Dawnguard and complete a series of side quests.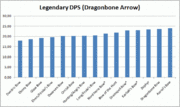 To the right is a chart of damage per second values for Legendary versions of bows firing Dragonbone arrows. The chart does not include bonus damage from the Archery skill, the Overdraw perk, or the Quick Shot perk; however, these would affect all the values equally and would not change the relative order of bows.