Skyrim:Braith
The UESPWiki – Your source for The Elder Scrolls since 1995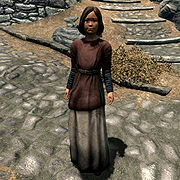 Braith is a Redguard child, and the daughter of Amren and Saffir living in Whiterun. You can see her walking around town with a chip on her shoulder, saying: "Boys, girls, dogs, elders - there's nobody I won't fight!", and perhaps bullying Lars Battle-Born. She will make it apparent that she is not intimidated by the player when she remarks "What're you lookin' at? I'm not afraid of you, ya know. Even if you are my elder."
She wears child's clothes and a pair of shoes. She carries a key to her father's house, a selection of food and toys, and a small amount of gold.
If you speak to Lars about the bullying and then convince Braith to stop, she will reveal that she actually liked Lars, and she would not be bullying Lars if he would just kiss her. Later, she states she has stopped bullying Lars, and Lars states that Braith will not even look him in the eye anymore.
During the day she runs around Whiterun either with the other children or on her own, sometimes she can be found verbally bullying Lars behind her parent's house. After resolving the bullying she will change her attitude and become friendly towards you. She returns home at 6pm to eat dinner and then goes to bed at 8pm, rising at 8am to resume her daily activities.
Your adopted girls may comment on her "Braith is a big meanie. She keeps telling Lars'n me what to do. I don't wanna play with her anymore."
[edit]
Related Quests
[edit]
Dialogue
During the day, Braith may have the following conversation with her father:
Braith: Papa, the next time you go away, I want to come with you.
Amren: When I go away, I go to war. That's no place for a little girl.
Braith: Every knight needs a squire. I could help you with your sword, things like that.
Amren: Nice try, blossom, but I'm not a knight, I'm a mercenary. The answer's still no. Besides, your mother would miss you too much.
Braith: Yeah. Right.

She may have either of the following conversations with her mother regarding Lars:
| Speaker | #1 | | #2 |
| --- | --- | --- | --- |
| Braith | Mother? Can I talk to you? | | Mother? |
| Saffir | Not now, Braith. | | What? |
| Braith | But... | | I wanted to ask you something. It's about a boy... |
| Saffir | Not now, Braith! | | Not now, Braith. Go... go ask your father. |
She may also have the following conversation with her father regarding Lars:
Braith: Papa, I want to talk to you...
Amren: Hmm? What about?
Braith: Well, there's this boy, and...
Amren: Listen, Braith... Why don't you talk to your mother about this, okay? There's a good girl.

(or, if Saffir is dead)

Amren: I wish your mother were still alive. She could answer you much better. Let me think on it and we'll talk later.

Braith bullying Lars:
| Speaker | #1 | | #2 | | #3 |
| --- | --- | --- | --- | --- | --- |
| Lars | Braith. I.... I've come to tell you that I'm not afraid of you anymore. | | (none) | | (none) |
| Braith | Don't make me laugh, baby Battle-Born. You'll be afraid of me till the day I kill you. | | Battle-Born! Give me your money! | | Oh look, it's little baby Battle-Born. |
| Lars | You... You're wrong! You can't hurt me anymore... | | I... I don't have any money. | | Leave me alone, Braith... |
| Braith | Oh no? So you're gonna fight back if I punch you? Huh? You're gonna hit a girl? | | You'd better give me five septims, right now, or I'm going to bloody your nose... | | What are you gonna do if I don't? Huh? Gonna cry to your papa? |
| Lars | Well, no... I... I mean... | | No! Please! I really don't have any money, Braith! I'll give you ten septims tomorrow. Just don't hit me. | | Just go away! |
| Braith | That's what I thought. Now get out of my way, baby. I got things to do. | | Ten septims tomorrow, baby Battle-Born. Or I'm gonna bloody your nose and your lip. | | (none) |