Skyrim:Calixto's House of Curiosities
The UESPWiki – Your source for The Elder Scrolls since 1995
This article is being developed as part of the Skyrim Houses Redesign Project. If you see this tag it means the article can still be improved. Please see the project page for guidelines.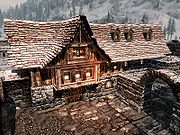 Calixto's House of Curiosities is the home of Calixto Corrium, who also uses it as a museum of odd and curious items.
Calixto's House of Curiosities is found in the east side of Windhelm, before entering the Gray Quarter. Calixto and his sister inherited a considerable fortune from their parents and decided to travel across Tamriel years ago. During their travels, they collected a number of curious and, some might say, legendary items. Calixto's sister is now dead, and he has settled in Windhelm, opening his collection for public viewing.
While Calixto is awake between 5 AM and 12 PM, his door is open at the same times as a regular store (at other times, it is locked by an Expert-level lock). During those hours, you can enter the house and look around, or pay Calixto a small fee (2 gold pieces) for a guided tour pointing out the most intriguing items in his collection. Calixto picks out the Ancient Nord Embalming Tools, The Book of Fate, Ysgramor's Soup Spoon, and The Dancer's Flute and proceeds to give a little background story on each of them.
[edit]
People
[edit]
Related Quests
Whirlwind Sprint can be used to get to the upper loft in the southern end of the house. On the loft, there are only a few owned barrels with food items to steal.

On top of the ladder is a locked chest which has Calixto's Journal and other miscellaneous items.
If you ask Calixto for a guided tour when the shop is closed, the shop will be permanently locked.