Skyrim:Chief Larak
The UESPWiki – Your source for The Elder Scrolls since 1995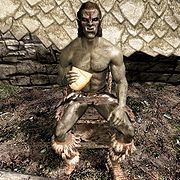 Chief Larak is the Orc warrior and chieftain of the Mor Khazgur Orc stronghold. He is a master shield-bearer and can thus train you in the art of Block up to skill level 90. As with many orc chieftains, Larak will challenge you to a brawl for the bet of 100 gold.
He is the father of Borgakh the Steel Heart and Olur and a husband to Shuftharz.
[edit]
Related Quests
NOTE:
Some radiant quests have a nearly unlimited list of possible quest targets, or can be randomly initiated by nearly any NPC in the game. These quests are not placed on individual NPC pages, and are instead listed at
radiant quest NPCs
.
The game data notes Larak as 'InLawParent' and not as 'Parent' to both Borgakh and Olur, making it possible that Larak took in Borgakh and Olur as his own children.
The game data marks Bagrak as a spouse to Larak, yet both Larak and Bagrak refer to Sharamph as their mother. Given that Orc women are married off to other outposts, it does seem strange that Bagrak would remain at Mor Khazgar if she is to be Larak's sister.
Sometimes when he is sitting in the chair outside the longhouse, he does not interact with anything. ?