Skyrim:Chillwind Depths
The UESPWiki – Your source for The Elder Scrolls since 1995
To meet our site's higher standard of quality, this article or section may require cleanup. The user who placed this here had the following concern:
Walkthrough section needs to be written out as proper paragraphs instead of in bullet form to be consistent with other articles.
To leave a message about the cleanup for this article, please add it to this article's talk page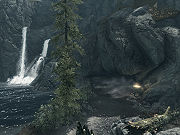 Chillwind Depths is a mountain cavern south of Dragon Bridge, on the border of Hjaalmarch and The Reach.
It is the largest single source of Bleeding Crown, Blisterwort, Imp Stool, Namira's Rot, and White Cap.
[edit] Interior: Chillwind Depths
[edit]
Enemies
5 small Frostbite Spiders
3 medium Frostbite Spiders
15 Falmer (Dependent on level)
2 Chaurus
2 Chaurus Reapers
1 Falmer Boss (Strongest variant for level)
1 pressure plate-activated sword trap in a small walkway
[edit]
Ingredients
The following ingredients can be found in Chillwind Depths:
[edit]
Items of significance
[edit]
People
There is one character found in the cave, named Firir. He is found dead in a Falmer cage and possesses a Torn Note in which he pleads in his final days of life for forgiveness from who appears to be his lover, Eydis. However, when Eydis is located at the Old Hroldan Inn, there is no special dialogue option available regarding Firir.