Skyrim:Clearspring Cave
The UESPWiki – Your source for The Elder Scrolls since 1995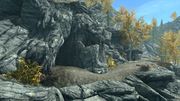 Clearspring Cave is a small earthen cave overlooking Eastmarch and occupied by a troll.
The cave entrance is unmarked and easily missed. From Clearspring Tarn, move a few meters north towards the cliff edge (overlooking Eastmarch to the north). Look down a few feet for the path that tracks across the cliff face. The cave is located at the right end of that path, and its entrance is a great place to enjoy a gorgeous view of Eastmarch.
The cave itself is located underneath the Tarn, whose waters seep through the ceiling. The first room is slightly flooded with water pooling in a lower section. Hanging moss is abundant and can be harvested around the edges overhanging the pool. There is a skeleton floating in the water to the left of the bridge with a leveled one-handed weapon and shield at the bottom of the pool beneath him.
The second room is slightly larger and full of various flora. The sole occupant of the cave, a troll, makes his home here. Towards the back of the room an unlocked chest can be found, as well as an altar containing the unique Bow of the Hunt and a copy of the Archery skill book Vernaccus and Bourlor.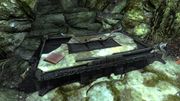 The guaranteed troll spawn makes this cave dangerous to low level players.
The entire cave contains a large amount of alchemy ingredients (plus the troll fat from the troll's corpse), and is certainly worth a visit if you use the alchemy skill.
There is a leveled sword by a partially buried skeleton just to the right of the troll's nest as you cross the earthen bridge.