Skyrim:Corpulus Vinius
The UESPWiki – Your source for The Elder Scrolls since 1995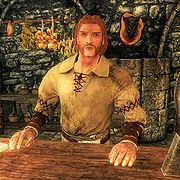 Corpulus Vinius is an Imperial, and the owner of The Winking Skeever in Solitude. He will rent out a room to the player for 10 gold a night and offers merchant services.
Sometimes, when the business runs particularly well, Corpulus suggests that he should retire and leave the proprietorship of The Winking Skeever to his older son Sorex Vinius. If Sorex demonstrates a lack of enthusiasm in the matter, his younger sister Minette Vinius immediately suggests that she should run the business. Minette justifies this proposal with her father's articulated opinion of her being "almost as smart" as he is and naively mentions Corpulus's fondness of "Auntie Faida from Dragon Bridge". Such debates make Corpulus raise his voice and claim that he is not going to retire - "ever!" Nevertheless, if Corpulus dies, Sorex ends up running the inn.
When asked about the name of the inn, Corpulus will reply: "Well, as it turns out, I had a pet skeever when I was a boy and he used to wink." If the player expresses surprise at such a peculiar choice of pet, Corpulus explains that "They were smaller back then."
Although you can't marry Corpulus, you can marry his son, Sorex Vinius, making Corpulus your father-in-law.
Although he has rumors during early contact, he continues proclaiming to the player that he is the one to come for rumors in Solitude even after his rumor topics have been exhausted. Also, many of the other NPCs have "rumor" conversation options where they direct you to speak to Corpulus.