Skyrim:Curalmil
The UESPWiki – Your source for The Elder Scrolls since 1995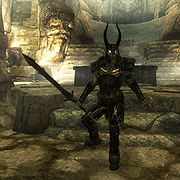 Curalmil is the end boss of the Forsaken Cave dungeon.
[edit]
Related Quests
Most of the time Curalmil will be a draugr. However, he can also possibly be a dragon priest at high levels.
His stats and abilities are leveled. At low levels, he will only have the Unrelenting Force dragon shout, but at high levels, he can possibly have the Disarm and Frost Breath dragon shouts as well.
His corpse may become unsearchable if he's killed outside his chamber. ?
While sneaking, his sarcophagus will burst open, but he may still be sleeping inside.
To fix this on PC, open up the console, click on him, and then type resurrect 1. Alternatively, type resurrect 0008DB3A.