Skyrim:Dainty Sload
The UESPWiki – Your source for The Elder Scrolls since 1995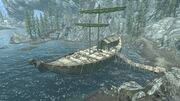 The Dainty Sload is a ship currently at anchor for supplies. It is anchored northeast of Solitude and southwest of the Solitude Lighthouse.
The ship has one interior zone: the Dainty Sload.
The Dainty Sload's deck is guarded by corsairs. There are two corsairs guarding the entrance to the interior of the ship. One stands looking out to sea, while another roams the deck. If you wish to avoid them, wait until the roaming corsair disappears behind the cabin and slip through the unlocked door.
[edit]
Related Quests
[edit]
The Dainty Sload Interior
[edit] Zone 1: Dainty Sload
If your sneak skill is fairly high, then it is a quite easy to sneak past all of the guards. To the right of the entrance is a rare fur helmet, a knapsack, and a chest. Turning around at the bottom of the stairs, to the left is a kitchen of sorts with quite a few bits of food, and two corsairs sitting at a table. Following the linear path through the door and past the table, there is a room to the left with a sleeping corsair who is triggered to wake shortly after the door is opened. There are a few ingredients to be found in this bedroom.
Following the path to the waterlogged bowels of the ship is a last corsair on alert. Under the stairs just descended is a chest, and to the right of the room are some hanging ingredients. Through the door is a set of shelves straight ahead, with two leveled potions, and a locked chest to the left. On top of the end table to the left of the path is another fur helmet.
Sitting at the table around the corners is the first mate, who has a high detection level. On the table there is a leveled poison, an unusual gem, and a copy of the speech skill book A Dance in Fire, v6. The chest by the cupboard is the boss chest, and can be unlocked with the Dainty Sload footlocker key, which is carried by the first mate.
At the end of the dock is a deathbell, and two spiky grass plants.
On the other side of the rocks by the plants is an iron ore vein.
If the corsairs and the first mate have been killed prior to the quest The Dainty Sload, the ship will fully reset, giving you a chance to double your loot.