Skyrim:Darkwater Pass
The UESPWiki – Your source for The Elder Scrolls since 1995
This article requires a map.
Please remove this template from the page when finished.
Darkwater Pass is a cave near Darkwater Crossing containing Falmer.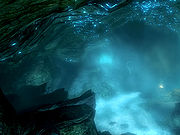 [edit]
Related Quests
[edit]
Exterior
Found at the foot of a giant waterfall located roughly due east of High Hrothgar, and upstream from Darkwater Crossing.
Specifically, locate the visible waterfalls adjacent (southeast) to the lake next to Darkwater Crossing.
Travel along the stone bridge and locate the path that will take you up to the second tier of the waterfalls.
Falmer totems are placed outside the entrance.
[edit]
Interior
Within the cave are a number of Falmer and chaurus ambushes.
Derkeethus is imprisoned in the central chamber and can be seen through a grate in the floor. Pulling a lever on the wall will open a hidden rock door that reveals a path to his cell.
Being a Falmer-inhabited cave, Darkwater Pass may be challenging if you are low-level.
In the water just outside the cave about 10 meters out and to the right, there is a lootable skeleton which appears to have been murdered and dumped there as he is tied to a stone block.
Once you and Derkeethus exit Darkwater Pass, Derkeethus will be available to you as a follower when asked.
A copy of the Enchanting skill book Catalogue of Weapon Enchantments can be found on top of the arcane enchanter.
Only the lower entrance to Darkwater Pass appears on your map.
Derkeethus may occasionally decide to follow you to the door but refuse to exit. Reloading older save points do not seem to fix this issue.

This bug is fixed by version 1.3.1 of the Unofficial Skyrim Patch.
A workaround for this problem is to go outside the cave and use the console and type prid 0001B08D and moveto player and then talk to him, this will finish the quest.
Another solution to this problem is to push him as close to the door as possible, then exit. He should follow you outside.

If you are a vampire seeking shelter from sunlight, do not use Darkwater Pass. It is still flagged as a outdoor area even though it appears to be an indoor area. ?