Skyrim:Dawnguard
The UESPWiki – Your source for The Elder Scrolls since 1995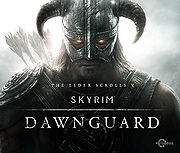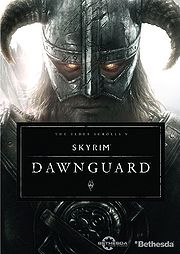 Dawnguard is the first major official plug-in for Skyrim. The add-on revolves around the Dawnguard, an ancient organization dedicated to hunting vampires and thwarting the schemes of Lord Harkon, who intends to use an Elder Scroll to permanently blot out the sun. The player can choose to aid the Dawnguard in their quest to destroy the vampires, or join the vampire clan and gain the powers of a Vampire Lord.
Dawnguard™ is the first official game add-on for The Elder Scrolls V: Skyrim® - the 2011 Game of the Year. The Vampire Lord Harkon has returned to power. By using the Elder Scrolls, he seeks to do the unthinkable - to end the sun itself. Will you join the ancient order of the Dawnguard and stop him? Or will you become a Vampire Lord yourself? Featuring an all new faction questline and locations, the ultimate choice will be yours.—Official Summary
Gameplay Information
Factions
Two new factions are added with this plug-in:
The Dawnguard — A group of vampire hunters dedicated to destroying the Volkihar vampire clan.
All players who complete the first quest in the plug-in's main questline must help this faction initially.
Membership in this faction allows you to freely enter and use all areas within Fort Dawnguard.
Volkihar Vampire Clan — The Volkihar vampire clan, led by Lord Harkon, intends to blot out the sun and dominate Skyrim.
Players may choose to join this faction during the plug-in's main questline, or destroy the faction altogether.
Membership in this faction allows you to freely enter and use all areas within Volkihar Keep.
Notes
Ten new achievements can be earned after installing the Dawnguard plug-in, listed on this page.
Eighteen new loading screens were added by the plug-in.
Several new world interactions are added by the plug-in which do not have their own individual article pages.
Dawnguard was subject to a 30 day exclusivity deal with Microsoft, where it was only available on the Xbox 360. As it turned out, it was released for the PC after 36 days, and due to severe performance issues, it was February 2013 before it was released for the PS3.
Bugs
The alchemy lab in Breezehome may become unpurchasable, or may not appear after it has been purchased.
NPC and player hair may glitch, change color, or even disappear. Restarting the console seems to fix this. ?
Dragon souls may not unlock new shouts, even if the player has more than one dragon soul. ?
See Also