Skyrim:Dawnstar Sanctuary
The UESPWiki – Your source for The Elder Scrolls since 1995
This article is being developed as part of the Skyrim Houses Redesign Project. If you see this tag it means the article can still be improved. Please see the project page for guidelines.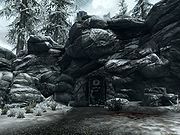 Dawnstar Sanctuary is one of two Dark Brotherhood headquarters located in Skyrim.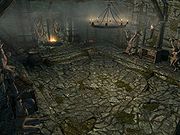 It is entered via a black door built into the rock face on the northern coast of Dawnstar, but it cannot be entered until the password has been learnt.
At first the sanctuary is abandoned as it has been for many years. It is only accessed when the password is discovered in Cicero's Journal, during the quest The Cure for Madness. After Cicero attempts to attack Astrid he will flee here, and wait for the player to arrive. Upon the completion of Hail Sithis!, this sanctuary can be used as a player home, and the remaining Dark Brotherhood members will relocate to this sanctuary, leaving their old one behind. When this happens, the area where Cicero lay injured becomes inaccessible.
You can purchase upgrades for this sanctuary from Delvin Mallory, a member of the Thieves Guild, just like any other player home. One of the upgrades, Master Bedroom, provides the sanctuary with several containers and a player-owned bed for rest. Another upgrade is a secret passage that lies just west of Dawnstar, next to the main road. When the torture chamber upgrade is bought, four victims can be found chained to the wall in a side room of the sanctuary. Each of these torture victims have hidden treasures, the location of which they will reveal to you as a result of persuasion.
[edit]
NPCs Living Here
* If he survived The Cure for Madness.
[edit]
Related Quests
The Dawnstar Sanctuary can be found at any time, and it can also be fast-travelled to after it is found.
It is impossible to enter the sanctuary without reading Cicero's Journal first. If you activate the black door, you will be given three dialogue options to try, but none of them succeed.
A copy of the Archery skill book The Marksmanship Lesson can be found on the table with the map.
In the master bedroom area of the Sanctuary, jumping onto the corner between the platform and central stairs can cause you to fall through the floor and fall into the ice caves blocked off after the Sanctuary is reclaimed. You can escape this area by walking the way you need to go for The Cure for Madness.
The large weapons rack in the main hall below the bridge cannot be used to store player weapons.
The unequippable Worn Shrouded Cowl, Gloves and Boots that appear in the master bedroom will not appear in your inventory after you pick them up, leaving you permanently stuck with 6 useless carry units