Skyrim:Dead Man's Drink
The UESPWiki – Your source for The Elder Scrolls since 1995
This article is being developed as part of the Skyrim Houses Redesign Project. If you see this tag it means the article can still be improved. Please see the project page for guidelines.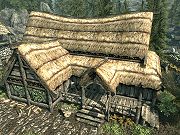 Dead Man's Drink is an inn in the town of Falkreath. It is owned by Valga Vinicia. Narri waits tables while Delacourt is the inn's bard. A copy of the Speech skill book A Dance in Fire, v6 can be found behind the counter. Many of Falkreath's citizens congregate here throughout the day and night.
[edit]
NPCs Living Here
* Appears here only after completing Moss Mother Cavern.
[edit]
Standard Merchandise
This is the merchandise found in the inn's merchant chest. These items are only available if purchased from the merchant; they cannot be pickpocketed or stolen. They are restocked every two days.