Skyrim:Derelict Pumphouse
The UESPWiki – Your source for The Elder Scrolls since 1995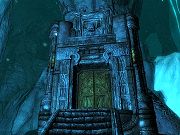 Derelict Pumphouse is a small Dwarven ruin located in Blackreach.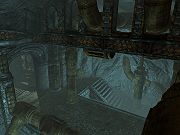 The pumphouse is located on an island in the waterfall-fed lake at the south end of Blackreach. There are two entrances: one near the water's edge, and another via an elevator from the walkways high above the lake that lead to Raldbthar Deep Market.
Entering from the lower entrance, you will find a Dwarven Spider Guardian awaiting. On the wall across the entrance, on the side with steps leading in the water, you will find a chest with an adept-level lock. A crimson nirnroot and a second chest can be found underwater. In order to access them, you have to activate the valve, lowering the gates blocking access to the arch under the walkway. The valve is located underwater to the left of entrance.
Three geode veins are located outside near the lower entrance to the pumphouse: one on each wall to the left and right of the lake, and a third up the first set of steps opposite.
Additional crimson nirnroot plants are found outside, around the pumphouse. One can be found to the left of the opposite staircase when exiting via the pool. If you ascend further, an additional one can be found to the right of the staircase, amongst the rocks and beneath the broken pipe emitting a stream of water, and another at the top of the right-hand branch of the staircase. Still another one can be found by swimming round to the right by the waterfall.