Skyrim:Dimhollow Crypt
The UESPWiki – Your source for The Elder Scrolls since 1995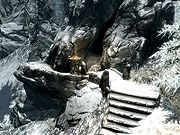 Dimhollow Crypt is a large cave southwest of Dawnstar where Serana is trapped.
[edit]
Related Quests
In the main chamber where you find Serana, there are two malachite ore veins along the northwestern wall on the ground near the water. There are two additional veins on the south cliff. To find them, head right just before reaching the door exiting Serana's chamber and go down a ramp. The veins are on both sides of that tall cliff.
In the next room, there is a chest along the southern wall with the Spell Tome: Necromantic Healing beside it.
In the large rectangular chamber just before the exit, you will find four more malachite ore veins around the edges of the room and a sarcophagus with a couple of leveled magic weapons and some coin purses sitting on top of it.
The word wall may not give you a word.