Skyrim:Dragon Bridge
The UESPWiki – Your source for The Elder Scrolls since 1995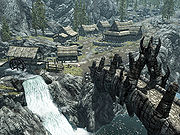 Dragon Bridge is a town in northwestern Skyrim.
It is home to the iconic Dragon Bridge, which predates the settlement, and is a point of interest to both the Stormcloak rebels and the Imperials.
The townspeople of Dragon Bridge are worried about both sides of the Civil War seeking to destroy the bridge as a means of preventing the other side from crossing.
There are two families that live in Dragon Bridge: Horgeir and Olda, and the Lylvieve family. The guards have been harassing the Lylvieve family and the proprietor of the inn by refusing to pay, stealing, and attempting to "have their way" with Julienne Lylvieve. Conversely, the mill has prospered due to the increased demand for lumber.
† May be killed in the Dark Brotherhood quest, Hail Sithis!
‡ Gets killed in the Dark Brotherhood quest, Breaching Security
[edit]
Related Quests
Just across the bridge, there is a satchel under a tree which contains a key to the treasure chest for Treasure Map VIII, which is located under the bridge in the water.
There is a gold vein upstream from the bridge on the bank opposite from the town.