Skyrim:Drelas' Cottage
The UESPWiki – Your source for The Elder Scrolls since 1995
This article is being developed as part of the Skyrim Houses Redesign Project. If you see this tag it means the article can still be improved. Please see the project page for guidelines.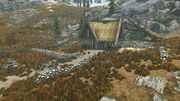 Drelas' Cottage is an isolated cottage at the foot of a mountain in northern Whiterun Hold. Enter with caution, as a powerful Dunmer elemental mage named Drelas lives here, and will attack on sight.
There is a chest containing leveled loot upstairs, but the real valuables are the plethora of alchemy ingredients scattered about the place, which include a nirnroot sample. There is also an arcane enchanter and an alchemy lab on the main floor. Items in the house, other than those looted from his corpse, will remain owned by Drelas and will be marked as stolen if taken.
[edit]
NPCs Living Here
The cottage contains a few leveled potions and poisons and many valuable alchemy ingredients, such as vampire dust, dragon's tongue, nirnroot, pine thrush eggs, hagraven feathers, sabre cat teeth, glow dust, ice wraith teeth, deathbell, and tundra cotton.
There is a small garden outside with leeks, potatoes, gourds, and cabbages. Several chickens and chicken's eggs are also found on the opposite side.
The cottage is a hot spot for dragon encounters due to the nearby word wall at Eldersblood Peak.
Even though the door isn't locked, entering the cottage counts as trespassing.
Using the Slow Time shout in Drelas' Cottage may have a permanent effect until you rest. ?