Skyrim:Dushnikh Yal
The UESPWiki – Your source for The Elder Scrolls since 1995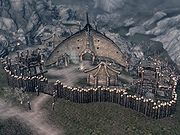 Dushnikh Yal is an Orc stronghold southeast of Markarth. An Orichalcum mine, Dushnikh Mine, helps to support the stronghold.
Its chief, Chief Burguk, is the master-level trainer in One-handed. Other notable residents include the potential follower Ghorbash the Iron Hand, the local blacksmith and expert Heavy Armor trainer Gharol, and the Apothecary Murbul. As with all Orc Strongholds, you must become Blood-Kin to the Orcs before you are welcome in the stronghold and able to barter or receive other services.
The main work area of the stronghold is to the side of Burguk's Longhouse, towards the mine entrance. A smelter, a blacksmith's forge, a grindstone, and a workbench can all be found here. A hut contains an Alchemy Lab, with a second one located in the basement of the longhouse.
The beds in the longhouse are all owned by the stronghold's residents and will all be occupied late at night. However, it is possible to sleep in one of the beds if you have acquired Gorbash's key to the longhouse, thus allowing you to enter without trespassing.
[edit]
Residents
[edit]
Exterior
| Crops | Mushrooms | Animals |
| --- | --- | --- |
| | | 1 Goat |
[edit]
Related Quests
In the cellar found inside Burguk's Longhouse you can find a unique item; a Dragonfly in a Jar.
The cellar also contains a copy of the Heavy Armor skill book Orsinium and the Orcs.
The hunters of Dushnikh Yal provide Hogni Red-Arm with the meat that he sells in Markarth's marketplace. Asking Hogni about his meat will add a map marker for the stronghold to your map, if you have not yet discovered it on your own.
Sometimes the alchemy lab in the longhouse basement is invisible. It still functions like an alchemy lab, it just cannot be seen. ?
When accepting to brawl with Chief Burguk, the other members may fight you as if you have turned against them. ?