Skyrim:Duskglow Crevice
The UESPWiki – Your source for The Elder Scrolls since 1995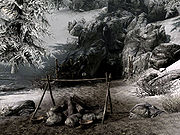 Duskglow Crevice is a small cave east of Fort Dunstad, occupied mainly by Falmer. The cave also contains several bandits, a few bandit corpses, and a few chaurus. The cave has only one zone: Duskglow Crevice.
[edit]
Related Quests
Note: This location is one of many potential targets for one or more of the radiant quests found on this page.
[edit] Zone 1: Duskglow Crevice
You will enter into a short ice cave, where you may overhear two bandits discussing the "cave people" who have been harassing them. As you may have noticed by the chitinous decor, they are of course referring to the Falmer. Continue down the ice cave, dealing with the bandits, and emerge into a snowy cavern separated by a small ravine. On the far side of the cavern, you may observe a battle between two Falmer and a lone bandit. The bandit won't stand a chance, so be prepared to deal with the two Falmer, who will make their way towards you using a one-way ledge.
Follow the path down the crevice and enter a more earthy cave, filled with cobwebs and a few skeevers. At the end of the tunnel, you will come across a Falmer encampment surrounding a small body of water. Several Falmer inhabit the camp, making a stealthy approach rather difficult. This room diverges into two caves: one leads to a small cavern containing a single chaurus, while the other one continues on. Fight through both Falmer and chaurus, while keeping a lookout for the occasional bandit corpse to loot.
The passage ends in a tripwire-activated claw trap mounted on the ceiling before revealing a crumbling, three-level Nordic ruin containing more Falmer and a couple of doomed bandits. Follow the ramps up to the top level of the ruin, where you can find the boss chest and other treasures scattered about, including a Moth in a Jar, a corundum ingot, the Pickpocket skill book Purloined Shadows, and the Lockpicking skill book The Wolf Queen, v1. Also on this level is a chain, hidden behind a burning brazier, which opens the gate on the level below. Passing through the gate will bring you back to the ledge upon which you saw the battle between two Falmer and a bandit, overlooking the snowy cavern. Follow the ledge and retrace your steps back up the ice cave for a quick exit.
The skill book The Wolf Queen, v1 is also found adjacent to the boss chest in the final room of Duskglow Crevice.