Skyrim:Erikur
The UESPWiki – Your source for The Elder Scrolls since 1995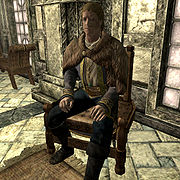 Erikur, a Nord warrior, is a thane of Solitude. He appears at the Thalmor Embassy during the main quest. He is the brother of Gisli. Erikur imports low quality Elven weapons from Black Marsh which he sells to the Imperial army for a high price. However his loyalties to the Imperials are flexible and he will even sell to the Stormcloaks if they've got enough money to make a competitive offer.
Erikur wears a set of fine clothes along with a pair of fine boots. He wields a steel dagger and carries the key to his house and a selection of rich loot and gold.
[edit]
Related Quests
During the dialogue for the quest The Dainty Sload, his voice changes.
He is under the protection of the Thieves Guild. His house is marked several times with the "protected" shadowmark. Despite this, he may still be the target of a Thieves Guild special jobs quest, even if the reputation quest The Dainty Sload has been completed.
An unfinished quest, Boethiah's Bidding, featured Elisif the Fair as the target of an assassination. Unused dialogue indicates that Erikur would have taken her place as Jarl of Solitude.
Erikur may not appear on the map, making the quest The Dainty Sload impossible. He appears on the main map screen as being situated in the ocean, northeast of the Katariah, however the game directs you from Skyrim to the Blue Palace, and from there no direct path to Erikur can be found. ?