Skyrim:Faldar's Tooth
The UESPWiki – Your source for The Elder Scrolls since 1995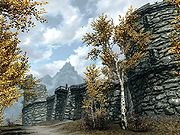 Faldar's Tooth is an old ruined fort located west of Riften and north of the Goldenglow Estate on the northern bank of the lake which neighbors the city.
[edit]
Related Quests
Note: This location is one of many potential targets for one or more of the radiant quests found on this page.
[edit]
Notable Items
A large number of wolves are found in the fort; most are locked in cages, but will attack immediately if you release them.
One circular room holds a caged pit, presumably where wolf fights are staged. In this room there is a master-locked cage with considerable loot (mostly gold) inside.
A huge amount of dog meat can be found in the kitchens, and throughout the fort. Reading the cook's journal will provide insight into the abundance of sub-standard meat.
The entire dungeon can be bypassed through a series of locked doors leading up to the tower.
The bandit chief of the fort has a unique bit of dialogue, in that he might say "So you're the one who's been down there killing all my wolves. You're gonna die for that!"
One silver ore vein is located 210 ft north of the fort's tower, on the far side of the rocky area there.
The location of the highest tower can be tricky to find. Once you are in the exterior middle section of the fort (you can jump straight to this level from a pile of rubble outside the east wall), follow the north wall eastward, and then southward (towards the lake) down a short set of wooden stairs. Immediately after the short set of stairs turn left (north), and you'll see a wooden door. A key for this door is found on a long wooden table in a large tent located near the top of the fort's exterior. There is an active campfire adjacent to the large tent.
Occasionally in the chamber where the pit fights are held, the door to the caged bar/bookie area will be open/unlocked and one of the two cells (one of which holds the corpse of a dark elf) will have a master level lock (despite holding little to no loot).