Skyrim:Falion
The UESPWiki – Your source for The Elder Scrolls since 1995
Falion
(RefID: 0001AA5E)
Home City
Morthal
House
Falion's House
Race
Redguard
Gender
Male
Level
15
Class
Conjurer
RefID
0001AA5E
BaseID
000135E9
Services
Training
Merchant
Gold
500 (+1000 Master Trader)
Sells
See Standard Merchandise
Buys
Spells (Books, Clothing, Daedric Artifacts, Jewelry, Scrolls, Soul Gems, Spell Tomes, Staves)
Other Information
Health
167
Magicka
143
Stamina
50
Primary Skills
Conjuration, Restoration, Alteration, Destruction
Class Details
TrainerConjurationMaster
Moral.
No Crime
Aggress.
Unaggressive
Essential
Yes
Faction(s)
Conjuration Trainer; CrimeFactionHjaalmarch; MorthalFalionsHouseFaction; ServicesMorthalFalion; Skill Trainer; TownMorthalFaction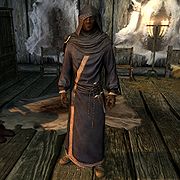 Falion is a Redguard conjurer and resident wizard of Morthal. Most of the villagers are wary of him and think he is up to something sinister, though Jarl Idgrod ignores their complaints and supports his presence. Due to his dislike in town, it's not public knowledge that his sister is the innkeeper. He is also the former master of Phinis Gestor.
He has been taking care of Agni after the loss of her parents and is training her to be his apprentice. He is a master level trainer in Conjuration and also sells magical equipment and spells. His house contains the only arcane enchanter in Morthal. Falion wears blue mage robes and a pair of boots, and is equipped with an iron dagger. He carries a key to his house, as well as a selection of higher class loot and gold.
[edit]
Related Quests
[edit]
Conversations
Falion can be seen having random conversations with his apprentice Agni, as outlined below:
Agni: "When I grow up, will I go to the College in Winterhold?"
Falion: "No, I don't think that will be necessary."
Agni: "But I'm learning about magic, and that's what they do there. Shouldn't I go?"
Falion: "The College is not the only place to learn about magic."
Agni: "But you went there, didn't you? Isn't that where you learned?"
Falion: "I was there only for a short time. Much of what I have learned has been on my own. And I will teach you. You have no reason to go there."
Agni: "But..."
Falion: "That is enough."
Falion: "Have you been working on your concentration?"
Agni: "Yes sir, I have."
Falion: "Good. Concentration is paramount when dealing with magical forces."
Agni: "Why?"
Falion: "Because an unfocused mind will almost certainly be obliterated. Destroyed by the forces you attempt to control and yield."
Agni: "Oh."
Falion: "Have no fear. I believe it is within you to excel in your studies. But you must learn to concentrate!"
Agni: "Yes, sir."
Agni: "I had a bad dream again last night."
Falion: "Oh?"
Agni: "I dreamt that you went away. You made monsters."
Falion: "It's just a dream, child. Nothing more."
Agni: "It was scary. It was like it was real!"
Falion: "Hush now. Think no more of it."
Agni: "Is it true that you kill deer and eat their hearts?"
Falion: "What? Where did you hear such a thing?"
Agni: "I don't know. Someone in town said it."
Falion: "It's not true, I assure you."
Agni: "Okay."
Falion: "Don't believe everything you hear, child."
Falion goes to a strange place north of Morthal around 1am. If you decide to talk to him while he is there, he will be ready to pay you gold if you keep his night activity a secret.
Falion's curious activities relate to his study of vampirism. Should you ever require the service, Falion possesses the power to cure a vampire of the disorder, for a price.
Falion claims to have met the Dwemer.
[edit]
Displayed Merchandise
The following items are sitting out in the store, for example on the store counters. They can be purchased from the merchant, or else can be stolen. Other items may also be present in the store, but those other items are not available for purchase. They respawn after ten days.
[edit]
Standard Merchandise
This is the merchandise found in Falion's merchant chest. These items are only available if purchased from the merchant; they cannot be pickpocketed or stolen. They are restocked every two days.