Skyrim:Falkreath Imperial Camp
The UESPWiki – Your source for The Elder Scrolls since 1995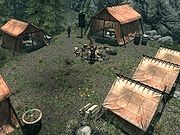 Falkreath Imperial Camp is a small Imperial camp on the northwest tip of Falkreath Hold.
The camp is led by Legate Skulnar, and acts as a base for Imperial soldiers in this region. Unlike other military encampments, there is no quartermaster here.
In the middle of the camp is a campfire with a cooking spit, an anvil and a grindstone. The largest tent contains a map of Skyrim, and across this tent is a similar tent which houses two wounded Imperial soldiers and an alchemy lab just outside. The Legate's tent consists of a bed, a chest, an end table, and a workbench on the side. Opposite the tent are three one-man tents with bed rolls.
Two ore veins can be found near the camp: