Skyrim:Farengar Secret-Fire
The UESPWiki – Your source for The Elder Scrolls since 1995
Farengar Secret-Fire
(RefID: 0001A67E)
Home City
Whiterun
Location
Dragonsreach
Race
Nord
Gender
Male
Level
10
Class
Fire/Frost/Shock Mage
RefID
0001A67E
BaseID
00013BBB
Merchant
Gold
500 (+500 Investor; +1000 Master Trader)
Sells
See Standard Merchandise
Buys
Spells (Books, Clothing, Daedric Artifacts, Jewelry, Scrolls, Soul Gems, Spell Tomes, Staves)
Other Information
Health
125
Magicka
110
Stamina
50
Primary Skills
Destruction, Restoration, Alteration, Conjuration
Class Details
CombatMageElemental
Moral.
No Crime
Aggress.
Unaggressive
Essential
Yes (until stage 30 of The Whispering Door)
Faction(s)
CrimeFactionWhiterun; DragonsreachOccupants; During sieges, staff and family hide.; Farengar spell vendor; JobCourtWizardFaction; JobMerchantFaction; TownWhiterunFaction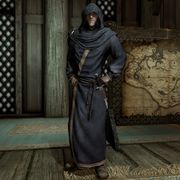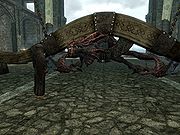 Farengar Secret-Fire, a Nord elemental mage, is the court wizard of Jarl Balgruuf the Greater. He advises the Jarl when Whiterun is facing a magic-based threat. He is also doing research into dragons and will ask you to retrieve a dragon tablet, found in Bleak Falls Barrow. As a court mage, he is one of the few people outside of the College of Winterhold who will sell you spells. Farengar can possibly be killed during The Whispering Door quest.
Expecting that your business involves the current war, he will greet you with, "Come to Dragonsreach to discuss the ongoing hostilities, like the rest of the "great warriors"?" He will then elaborate on the subject: "It seems this damnable conflict has claimed everyone's passions of late. Me, I prefer my books, and my spells." He then discuss his passion for the magical arts: "There's a tranquility in magic, don't you think? It is simply energy, to be harnessed by those with the will and knowledge to do so." If you go near him before you have completed the Bleak Falls Barrow quest he will somewhat rudely comment by either saying "I thought you were already on your way to Bleak Falls Barrow, the Jarl is not a patient man and neither am I." Or when exiting the conversation he will say: "Away with you!"
He may also give a tutorial for enchanting items at the arcane enchanter in Dragonsreach.
If you do not immediately release Odahviing after capturing him in Dragonsreach, Farengar will make an appearance to introduce himself to the dragon and attempt to perform "tests" on him, but will flee when the trapped dragon demonstrates his fire breath out of frustration.
Farengar wears blue mage robes and a pair of boots. He is equipped with an iron dagger and carries a selection of common loot and gold. During the quest The Whispering Door, he also carries a copy of the key to the said door.
[edit]
Spells
Farengar Secret-Fire knows the following spells:
[edit]
Related Quests
[edit]
Displayed Merchandise
The following items are sitting out in the store, for example on the store counters. They can be purchased from the merchant, or else can be stolen. Other items may also be present in the store, but those other items are not available for purchase. They respawn after ten days.
[edit]
Standard Merchandise
This is the merchandise found in Farengar's Merchant Chest. These items are only available if purchased from the merchant; they cannot be pickpocketed or stolen. They are restocked every two days.
| Count | Item | Details |
| --- | --- | --- |
| 1 | Complete set of Novice Spell Tomes | |
| 1 | Complete set of Apprentice Spell Tomes | |
| 1 | Complete set of Adept Destruction Spell Tomes | Only if PC's skill level is high enough |
| ~4 | Leveled Robes (enchanted) | Max 5 (5@75%) |
| ~9 | Leveled Scrolls | Max 12 (12@75%) |
| ~15 | Leveled Soul Gems (empty and full) | Max 20 (20@75%) |
If you advance The Whispering Door far enough to be able to kill Farengar, and he is killed at some point before The Fallen, the other people involved in the interrogation sequence will react as if he were still alive (talking to him, etc.) despite the fact that he is dead.