Skyrim:Farkas
The UESPWiki – Your source for The Elder Scrolls since 1995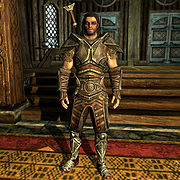 Farkas is a Nord and member of the Companions. While, as his twin brother Vilkas puts it, "his brains are not his strong suit", Farkas is respected as a skilled warrior.
He and Vilkas belong to the Companions' inner circle and, as such, are both werewolves.
As children, the two were rescued from a band of necromancers by a man named Jergen, who then raised them as Companions. Farkas appears morally ambivalent about being a werewolf, and is hesitant to use his Beast Form.
He can be loose with his tongue, often showing impertinence to his elders. However, he warms up quickly to you when met, and is quick to protect his friends.
He offers both miscellaneous quests and master level training in Heavy Armor. During the journey to Ysgramor's Tomb, Farkas will refuse to accompany you past the outer chambers, admitting that he has developed a fear of giant spiders following your initiation trial in the quest Proving Honor.
[edit]
Related Quests
Other Quests
Farkas, Vilkas, and Aela the Huntress are tagged as guards, which will make them chase you if you have a high enough bounty.
When Farkas follows you, he will often sneak, even when you don't.
After completing the quest Glory of the Dead you may have to complete one radiant quest from Farkas before he will give you the quest Purity.
Farkas means "wolf" in Hungarian.
Farkas's class is "TrainerHeavyArmorMaster", which results in mismatches between his skills and equipment: specifically he uses two-handed weapons but he is more skilled in one-handed weapons. Additionally, his armor skills do not level, which puts him at a disadvantage when accompanying you.
Farkas is initially armed with a Skyforge Steel Greatsword, but will lose it during Proving Honor. See that quest's page for details and a solution.
Farkas is part of a guard type of faction, so if you have a bounty anywhere, he will keep approaching you with his weapon drawn. Although he is supposed to charge for a fine, if this glitch happens, he will speak to you as if you walked up and pressed the talk button. This will also take away your ability to wait or fast travel. Simply pay off your bounties and wait for him to return to Jorvasskr . ?
Farkas continues to speak of Skjor as if he were still alive long after his death. ?
Farkas may get stuck in an animation loop when he is supposed to guide you to the sleeping area of Jorrvaskr. Simply leave the living quarters and return. ?
Sometimes after Glory of the Dead, Farkas will follow you and there is no speech option that lets you part ways with him. ?