Skyrim:Farm Overseer's House
The UESPWiki – Your source for The Elder Scrolls since 1995
Dwarven Ruin:
Farm Overseer's House

# of Zones
1
Clearable
No
Respawn Time
10 days
Level
Min: 18
Occupants
None
Console Location Code(s)
BlackreachZCell08
Region
Blackreach
Location
Southwest corner of Blackreach, north of the bridge to the Tower of Mzark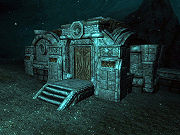 The Farm Overseer's House is a small empty Dwarven house in Blackreach.
The most notable items in the house are a Falmer bow, on a table straight ahead of the door, and three random leveled potions (one restore magicka, one best-quality restore health, and one poison) on a shelf behind the table. On the floor in the west corner there is a locked chest and there is a less visible chest on the wall just above the stone bed. Three glowing mushroom are growing on the walls, as well as one already-harvested glowing mushroom and two skeever tails. Otherwise, the house contains the usual assortment of Dwemer plates, cups and scrap metal.
Fifteen mushrooms patches of various types are growing outside the house.
One geode vein is outside, in the corner north of the building.