Skyrim:Fenrig
The UESPWiki – Your source for The Elder Scrolls since 1995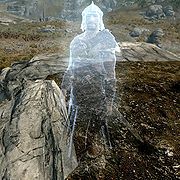 Fenrig is the ghost of a Nord warrior who was killed just before the battle at Greenspring Hollow, now commemorated by Gjukar's Monument. He was married to Ruki, who searches for him in undeath.
Fenrig is stuck reliving the night before the battle repeatedly. He spends all his time in the camp near the battlefield, where he was apparently killed during a surprise enemy raid. When you greet him he will say worriedly, "We're expected to fight there tomorrow. Gjukar elected to camp here for the night. I don't like it, though." He will elaborate with "Our fires are visible for miles. We're in a low valley. Sitting ducks," which seems to hint at the way he met his doom. Mentioning Ruki will pique his interest ("Ruki? Where is she?"), and upon offering her location he will add decisively, "If she's come this far from home, it must be important. Lead on. I just need to report back to camp by sunrise."
Being reunited with Ruki is a bewildering, but joyous moment for Fenrig. Together they float up into the sky to spend eternity with one another among the stars.
He wears basic armor and carries an iron sword.
[edit]
Related Quests