Skyrim:Fire Mage
The UESPWiki – Your source for The Elder Scrolls since 1995
Fire Mages are enemy spellcasters who specialize in the Fire Damage branch of Destruction magic. They are typically found in a few caves, keeps, and ruins across Skyrim known as warlock lairs. Like other elemental mages (ice mages and storm mages), they belong to the Fire/Frost/Shock Mage NPC class.
The type of fire mage you encounter depends on your level. You will continue to meet low-level fire mages even at high levels, but boss-level fire mages will always be at the highest possible level.




[edit]
Fire Mages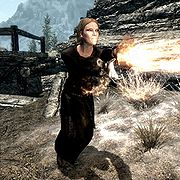 Fire mages rely on their devastating fire-based spells in combat, and carry a leveled dagger in case of close-quarters fighting (iron, steel, orcish, dwarven, elven, glass, or an enchanted dagger of any quality from iron to Daedric). They also have a 10% chance to carry a leveled Conjuration or Destruction staff.
They wear a pair of boots along with black mage robes, hooded black mage robes, robes of Alteration, robes of Destruction, robes of Restoration, or robes of Fortify Magicka Rate.
In addition to the gear listed above, fire mages have a small chance to carry potions, poisons, soul gems, Novice or Apprentice level spell tomes, ingredients (common, uncommon, or rare), recipes, and a small amount of gold. They also have atronach forge recipes in their inventories, but their chance of appearing in-game is set at 0%.
On death, fire mages have a 10% chance to drop potions and poisons, and a 5% chance to drop one of the following scrolls:
Pyromancers and Arch Pyromancers have the same gear as lower-level fire mages, but have a 50% chance to carry a Staff of Fireballs and do not have the leveled lists for atronach forge recipes.
Name

Level

Race
ID

Sta.

Spells
Perks
Novice Fire Mage
1
Breton

00044cdc

50
100
25
None
Breton

00044cda

Dark Elf

00044cdf

Dark Elf

00044ce1

High Elf

00044ce3

High Elf

00044ce5

Imperial

00044cea

Imperial

00044ceb

Apprenctice Fire Mage
6
Breton

00045c62

142
158
25
Breton

00045c63

Dark Elf

00045c64

Dark Elf

00045c65

High Elf

00045c66

High Elf

00045c67

Imperial

00045c68

Imperial

00045c69

Fire Mage Adept
12
Breton

00045c7d

192
198
25
Breton

00045c7e

Dark Elf

00045c7f

Dark Elf

00045c80

High Elf

00045c81

High Elf

00045c82

Imperial

00045c83

Imperial

00045c84

Fire Mage
19
Breton

00045ca3

275
270
25
Breton

00045ca4

Dark Elf

00045ca5

Dark Elf

00045ca6

High Elf

00045ca7

High Elf

00045ca8

Imperial

00045ca9

Imperial

00045caa

Fire Wizard
27
Breton

00045cc1

367
323
25
Breton

00045cc2

Dark Elf

00045cc3

Dark Elf

00045ccb

High Elf

00045cc4

High Elf

00045cc5

Imperial

00045cc6

Imperial

00045cc7

Pyromancer
36
Breton

00045cca

467
383
25
Breton

00045ccc

Dark Elf

00045cc8

Dark Elf

00045cc9

High Elf

00045ccd

High Elf

00045cce

Imperial

00045ccf

Imperial

00045cd0

Arch Pyromancer
46
Breton

001091b9

575
500
50
High Elf

001091b3
[edit]
Fire Mage Bosses
Apprentice Fire Mage bosses have the same inventory as the lower-level fire mages listed above. Fire Mage Adepts, Fire Mages, Fire Wizards and Pyromancer bosses have the same inventory as the Pyromancers and Arch Pyromancers listed above, with the exception that Fire Mage Adepts and Fire Mages have a 50% chance to carry a Staff of Firebolts rather than a Staff of Fireballs.
Name
PC Level
NPC Level
Race
ID

Sta.

Spells
Perks
Apprentice Fire Mage
1
6
12
7
Dark Elf

000e0fff

175
190
25
Dark Elf

000e1000

High Elf

000e1001

High Elf

000e1002

Fire Mage Adept
19
14
Dark Elf

000e1003

234
261
25
Dark Elf

000e1004

High Elf

000e1005

High Elf

000e1006

Fire Mage
27
21
Dark Elf

000e1007

317
333
25
Dark Elf

000e1008

High Elf

000e1009

High Elf

000e100a

Fire Wizard
36
30
Dark Elf

000e100b

392
393
25
Dark Elf

000e100c

High Elf

000e100d

High Elf

000e100e

Pyromancer
46
40
Dark Elf

000e100f

500
410
50
Dark Elf

000e1010

High Elf

000e1011

High Elf

000e1012
[edit]
Named Fire Mages
[edit]
Related Quests
[edit]
World Interactions
All the generic fire mages that are Dark Elves are listed twice in the leveled lists, which means fire mages are slightly more likely to be Dark Elves than one of the other races.