Skyrim:Forebears' Holdout
The UESPWiki – Your source for The Elder Scrolls since 1995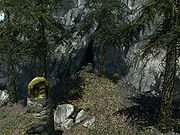 Forebears' Holdout is a small cavern located southeast of Dragon Bridge.
The enemies within depend upon which side you ally yourself with in the main questline of the Dawnguard plug-in. If you are with the Dawnguard, the cave is overrun with vampires led by Malkus. If you sided with the vampires, the cave is being guarded by the Dawnguard, and Vanik will be trying to protect the Moth Priest.
[edit]
Related Quests
In the main cavern, there is a chest in the small alcove between the south wall and the largest tower. You will need to use the Whirlwind Sprint shout to reach a ledge on the tower. From there, you can jump (or shout again) to reach the alcove on top of the wall.
You can also reach the ledge by climbing to the top of the stairs and jumping up and around the broken edge of the wall left of the stairs. This will cause you to drop onto the ledge.
A master-locked chest is near the barrier in which Dexion was imprisoned.