Skyrim:Forgotten Vale Cave
The UESPWiki – Your source for The Elder Scrolls since 1995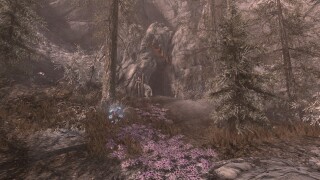 Forgotten Vale Cave is a cave located within the Forgotten Vale, and the location of one of the rare Shellbugs.
The entrance of the cave can be found upon entering the first section of the Forgotten Vale by heading down the valley and following the eastern wall. The entrance is guarded by a Falmer, while inside there are Chaurus Hunters, Chaurus, and a Shellbug. To find the Shellbug, you need to open the hidden door by pulling a rope located up a ramp in the main chamber.
You may be unable to mine shellbugs after they respawn. Leaving and reentering the cave will enable the shellbugs and you can then mine them normally. ?