Skyrim:Fort Greenwall
The UESPWiki – Your source for The Elder Scrolls since 1995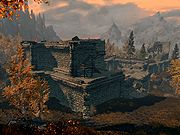 Fort Greenwall is a Stormcloak fort situated south-southeast of Shor's Stone. If you visit it without the Imperial quest, it will be populated by bandits.
During The Unification of Skyrim radiant quest, if you have chosen to side with the Imperials, you may be sent here to reclaim the fort from the Stormcloaks.
The fort has three interior zones: Fort Greenwall, Fort Greenwall Captain's Quarters, and Fort Greenwall Prison.
The Fort Greenwall zone contains a grindstone and minor loot. Downstairs, there is a wall-mounted cage with some alchemy ingredients.
Fort Greenwall Prison and Fort Greenwall Captain's Quarters are connected to each other. The prison has a downstairs section with three Frostbite Spiders, and an unlocked chest with leveled loot secured behind an Expert-locked door. The Captain's Quarters contains a chest with excellent loot (likely magical), a Shrine of Stendarr, and the One-handed skill book Mace Etiquette.
Greenwall Cave, which is not connected to any of the fort's interior zones, is accessible from the fort's exterior area. There is one entrance inside the fort's walls, and one outside. The cave is a good source of glowing mushrooms. Underwater, there is a dead soldier, some mead bottles, a letter, and an unlocked chest.
[edit]
Related Quests
To the east of Greenwall Cave's main entrance (the one exterior to the fort), there is a caged wolf. When freed, two Trappers will proceed to attack you, with the wolf siding with you against them. If the wolf manages to survive the fight, it will be friendly and stay around in the cage area.
For historical information, see the lore page.