Skyrim:Fort Hraggstad
The UESPWiki – Your source for The Elder Scrolls since 1995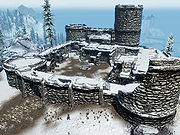 Fort Hraggstad is a bandit-controlled fort located north of Dragon Bridge. It has a courtyard and two interior zones: Fort Hraggstad Prison and Fort Hraggstad.
[edit]
Related Quests
[edit]
Walkthrough
[edit] Exterior: Courtyard
The sizable courtyard and walls are patrolled by a handful of bandits. A forge is situated along the southwestern wall. On top of the two intact towers are random leveled (possibly enchanted) bows and arrows on tables.
[edit] Zone 1: Fort Hraggstad Prison
A couple of bandits inhabit the room, near the only entrance, so you will generally be attacked as soon as you go in. There is a bag of coins on a table to the left and a chest on the lower level. There is also a knapsack with a leveled potion, book and jewelry on top of a bookcase in the same room. The prison cells are empty.
[edit] Zone 2: Fort Hraggstad
You're likely to confront a lone bandit in the first room. Even the sounds from a loud battle with him are unlikely to reach the ears of the next bandit upstairs, so you can generally deal with them one at a time. Up the stairs is an adept-locked chest on a wooden platform and a sizable room with bookshelves and beds. There are two bandits here, including a boss. You'll find a copy of the Archery skill book The Gold Ribbon of Merit on the farthest table.
Sometimes after completing the Imperial quest and being told a garrison of troops will be securing it, the next time you arrive it will be repopulated by bandits.