Skyrim:Fort Kastav
The UESPWiki – Your source for The Elder Scrolls since 1995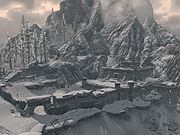 Fort Kastav is a fort northwest of Windhelm on the main Whiterun-Winterhold road, initially occupied by warlocks and skeletons. During the related civil war quests, the fort becomes occupied by either Stormcloak rebels or the Imperial Legion.
The fort is situated in a mountain pass which it spans almost completely, leaving only enough room for the road. It has skeletons patrolling the walls, and one on a lookout post. The compound houses two powerful mages who will emerge and attack if the skeletons raise the alarm. The interior comprises two areas: Fort Kastav Captain's Quarters and Fort Kastav Prison. There is a grate near the southern wall leading into the prison.
[edit]
Related Quests
[edit]
Interior
[edit]
Fort Kastav Captain's Quarters
On an end table in the raised sleeping area is a copy of the Block skill book Warrior. A ladder in the sleeping area leads up and out onto the tower. In the ruined storage area at the bottom of the stairs there is a chest, but little else of note in this area except for a Fort Kastav Prison Key on a table, and a selection of cheese on a bookshelf.
[edit]
Fort Kastav Prison
The prison is a series of rooms containing cells for holding prisoners. It has beds for soldiers and guards. There is little of note in this area aside from the style of the five prison cells themselves. The cells are unlocked by the Fort Kastav Prison Key, a second copy of which can be found on a table shortly after entering.
The trapdoor that leads outside the Captain's Quarters appears to be levitating.