Skyrim:Froki's Shack
The UESPWiki – Your source for The Elder Scrolls since 1995
This article is being developed as part of the Skyrim Houses Redesign Project. If you see this tag it means the article can still be improved. Please see the project page for guidelines.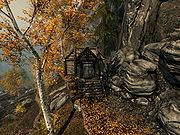 Froki's Shack is an isolated hunter's shack nestled in the southern mountains of The Rift.
The Nord hunter Froki Whetted-Blade lives here with his grandson Haming, a survivor of Helgen. He is a follower of the old ways and a devout worshipper of Kyne. Froki will guide you through the Sacred Trials of Kyne if you allow him.
A copy of the Archery skill book Vernaccus and Bourlor can be found on the bookshelf next to the tanning rack.
[edit]
NPCs Living Here
[edit]
Related Quests
On the wood chopping block outside, you can find a Diadem of the Savant, which respawns. It is possible this was a mistake, as the Creation Kit specified that the diadem was meant to be a reward for completing Shalidor's Maze, and not appear anywhere else. Version 1.2.5 of the Unofficial Skyrim Patch changes this instance of the diadem into a leveled circlet with a Fortify Archery effect.
In the cliff directly below the shack is a vein of orichalcum ore with a pickaxe protruding from it.
A shrine of Talos can be found outside of the hut further south in the mountains, surrounded by various bits of Imperial Legion accoutrements left as offering.