Skyrim:Frost Salts
The UESPWiki – Your source for The Elder Scrolls since 1995
Frost Salts


(0003ad5f)

100
0.25
Alchemy Effects
1st
 Weakness to Fire
2nd
 Resist Frost
3rd
 Restore Magicka
4th
 Fortify Conjuration
Sources
# Samples
47
Creature
Frost Atronach
Merchant Avail.
Rare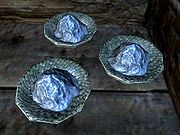 Frost Salts are dropped by frost atronachs.
[edit]
Ingredients
47 guaranteed samples can be found in 33 different locations. Locations with multiple samples are:
It is categorized as a rare ingredient, meaning that most apothecary merchants have a 21% chance of carrying 1-4 samples. In addition, it may be randomly found only in rare-type apothecary's satchels. Other possible locations for already-harvested samples include:
[edit]
Creatures
Frost salts are dropped by both frost atronachs and frost thralls.
[edit]
Related Quests
Dravynea's Frost Salts: Find some frost salts for some training.

1 sample is needed for this quest.

Salt for Arcadia: Farengar asks you to deliver some frost salts to Arcadia.

During this quest, you are asked to deliver Farengar's frost salts. They are the same item with a different name.