Skyrim:Fultheim the Fearless
The UESPWiki – Your source for The Elder Scrolls since 1995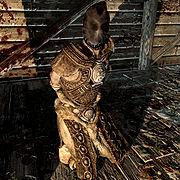 Fultheim the Fearless is one of the three hostages in With Friends Like These.... He is a Nord mercenary who works out of Skyrim. He bears no particular ills against any person, but when asked about his potential assassination, he reasons that as a sell-sword, any number of people could have put a contract out on him. When intimidated, he admits to sometimes getting carried away during battle.
Despite his name, he is quite afraid when he is bound up. He begs for his life and insists that he is just a soldier and does his job.
Fultheim thinks that somebody would pay to have him killed because he slaughtered sleeping people, which he thought was immoral.
[edit]
Related Quests
[edit]
Dialogue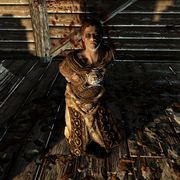 Upon approaching (and potentially on the first time speaking), he will say:
"I... I can hear you talking out there. Please, let me go. I've done nothing to you."
If you begin conversation with him after listening to him saying the above, he will say:
"Is this about that raid last week? I told Holgrim there was no honor in killing sleeping men, but he wouldn't listen! It wasn't my fault, I swear!"
Upon asking "Who are you?", he will reply:
"My name is Fultheim. I'm a soldier. Well, mercenary, really. You know, a... a sellsword. I've lived in Skyrim all my life. That's all! I'm a nobody, really. So can't you just let me go?"
If you say "Would someone pay to have you killed?", he will reply:
"What? Oh gods, I don't want to die..."
If you say "Answer me, or die! (Intimidate)" he'll reply:
"Please! I don't know! I mean, I'm a soldier. I've killed people. When I was ordered to. Maybe there were some times... some times I got carried away? But war is war. Right? Nobody could blame me for that. Could they?"
If, instead of the one above, you say "Shhh... Don't be afraid. You can tell me. (Persuade)" He will reply:
"Okay, well... I guess it's possible. I've been selling my sword arm for years now. Killed a lot of people. Could be someone wanted revenge. But... But you're not going to kill me. Right?"
After your conversation with him, he will say:
"What did I do? Please, whatever it is, I'm sorry."
If you look at him whenever, he will say one of the following:
"I'm just a soldier. Killing is my job! Surely you can't fault a man for doing his job?" or "Please, oh please, I don't want to die..."
Upon death:
"Aiiiieee!"
If you kill someone else, he will say:
"Oh, gods, please! Let me live! I'll do anything you want!"
If you kill him (by himself or including him), Astrid will comment:
"Oh ho. The whimpering Nord, eh? Yes, yes, I can see how you'd come to that conclusion. Interesting choice."
"The timid warrior and the sly Khajiit. Must have been one or the other, right?"
"The blubbering barbarian and the tenacious mother. Must have been one of them, right?"
After you kill Astrid, and click the "..." option, he will say:
"Please! Release me! Cut my bonds!"
After choosing the "(Cut the captive's bonds)" option, he will say:
"Thank you! Thank you! I'll never speak of this to anyone, I promise!"
Any time after release:
"Thank you! Thank you! I won't tell anyone what happened here, I swear it!"