Skyrim:Gissur
The UESPWiki – Your source for The Elder Scrolls since 1995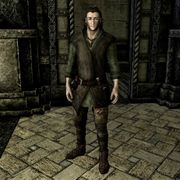 Gissur is a Nord beggar and an informant of the Thalmor. He can be overheard arguing with Rulindil in the Thalmor Embassy during Diplomatic Immunity. If he is not slain during the infiltration of the embassy, you will later meet him in The Ratway Vaults during the quest A Cornered Rat, where Gissur will attack you.
He carries with him a note, on which a description of his target and the instructions to inform his assigned contact if he spots you. Gissur can be found sneaking around the Ragged Flagon during A Cornered Rat, and you can kill him there without repercussions. Inhabitants of the Flagon will also gang up on him if he becomes hostile.
After you speak to Vekel the Man, he will point to Gissur ("that man") saying that he was asking about Esbern too. If you decide to follow him, Gissur will exit the Flagon and enter the Ratway, where he will meet with a Thalmor wizard whom he will inform about your whereabouts. If he is confronted while trying to leave the Ragged Flagon, he will say either "Leave me alone", "I've got nothing to say to you", or "I'm not looking for a conversation."
[edit]
Related Quests
Be careful when you leave the Ratway or The Ragged Flagon towards Riften if you did not resolve the associated quest A Cornered Rat. Gissur and possibly Thalmor soldiers may follow you and start a fight in the Flagon or the town itself, possibly killing innocent people. To prevent this from happening, kill at least the initial Thalmor soldiers (Gissur alone is no threat to the townspeople).