Skyrim:Goldenrock Mine
The UESPWiki – Your source for The Elder Scrolls since 1995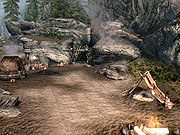 Goldenrock Mine is a small corundum mine that supports Darkwater Crossing.
It was discovered by the adventurer Annekke Crag-Jumper who noted how rich it was in corundum. The mining is starting to show signs of age and the miners are concerned it may soon be depleted. There are two corundum ore veins near the entrance and two at the very bottom. Outside the mine, to the left of the entrance, you can also find three corundum ores on top of the boxes and three corundum ingots next to the smelter (all owned). A copy of the Heavy Armor skill book Chimarvamidium can be found on a barrel at the end of the entry hallway. Verner Rock-Chucker will buy corundum ore from you.
[edit]
Residents
* This person only appears after Extracting an Argonian.
[edit]
Related Quests