Skyrim:Great Lift at Raldbthar
The UESPWiki – Your source for The Elder Scrolls since 1995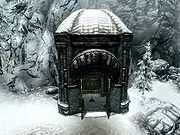 The Great Lift at Raldbthar is a Dwarven lift to Blackreach located west-southwest of Anga's Mill, in the mountains.
The Great Lift at Raldbthar is a mechanical lift which can only be used and entered after starting the quest, Discerning the Transmundane. Inside the lift is a lever which, when activated, will take you down into Blackreach. The top-side of the lift is surrounded by metal barriers, one of which is a gate. The gate can only be opened by pulling a lever directly to the right of it, after which the lift can be entered from the outside anytime you travel there (fast traveling puts you right outside the lift).
The lift is Dwemer in origin and is one of seven ways into Blackreach, which must first be entered by traversing the ruins of Raldbthar, Mzinchaleft, or Alftand and using the Attunement Sphere from Septimus Signus to open a door to Blackreach.
[edit]
Related Quests
Despite not being clearable, and having no associated dungeon, the map may still show this location as "Cleared". ?