Skyrim:Sunderstone Gorge
The UESPWiki – Your source for The Elder Scrolls since 1995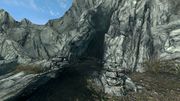 Sunderstone Gorge is a heavily trapped narrow cave system inhabited by warlocks, located west of Bloated Man's Grotto. It contains several varieties of fire traps and a word wall which teaches part of the Fire Breath shout. An unusual gem is located on the large stone bier in front of the word wall.
[edit]
Related Quests
[edit]
Ore Locations
Just as you enter the tunnels where the rain begins to fall, there's a flame spout trap trigger on the floor and a silver ore vein on the ground next to it.
There are three silver ore veins in the side passage where rain falls into the gorge, near the drop-exit passage.
This place is referred to as "Greywater Gorge" in game letters and your quest journal.
When you get to the word wall you may encounter a bug where the word absorbs as normal but doesn't appear in the shout menu and you cannot unlock it. This is permanent.