Skyrim:Guldun Rock
The UESPWiki – Your source for The Elder Scrolls since 1995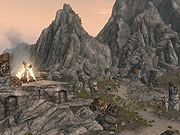 Guldun Rock is a giant camp located near the base of the Throat of the World.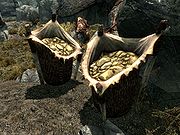 A path leading from the road that follows White River will take you up to this giant camp. Typical giant camp features are present including eight sacks of mammoth cheese. A large stone platform that makes for a good vantage point is to the northern edge of the camp. Directly across from the platform is the entrance to Guldun Rock Cave.
[edit]
Guldun Rock Cave
The cave is typically unoccupied. There are two sacks of mammoth cheese, an augmented loot chest, and a copy of the Heavy Armor skill book The Knights of the Nine inside.
[edit]
Related Quests
Two orichalcum ore veins are located 210 ft north-northeast of the camp.