Skyrim:Hall of the Vigilant
The UESPWiki – Your source for The Elder Scrolls since 1995
This article is being developed as part of the Skyrim Houses Redesign Project. If you see this tag it means the article can still be improved. Please see the project page for guidelines.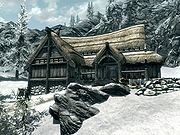 The Hall of the Vigilant is a secluded lodge south-southwest of Dawnstar, home to the Vigilants of Stendarr.
The Vigilants are led by Keeper Carcette, who offers expert training in Restoration. She can be found leaning over the shrine of Stendarr on the long table at the west end of the hall, or in her bed in an adjoining room.
Atop the table with the shrine, you will find a daedra heart, a sample of void salts, a bone meal, a wolf pelt, and a leveled weapon. All of these items are owned by the Vigilants.
Behind the shrine is a staircase leading down to the cellar. There you will find a bookshelf and barrels containing various potions and ingredients, a treasure chest, and a copy of the Heavy Armor skill book The Knights of the Nine. All of these items, except the book, are also owned by the Vigilants.
[edit]
Dawnguard
With the Dawnguard plug-in installed, the Hall of the Vigilant is destroyed by vampires once you reach level 10 or have completed the quest Dawnguard. The bodies of Vigilants, vampires, and death hounds are scattered throughout the smouldering rubble. The alchemy labs, tanning rack, skill book, and daedra heart are gone, and the basement is no longer accessible.
[edit]
Related Quests
There is a tanning rack outside the front door to the right as you exit the hall.
[edit]
Gallery