Skyrim:Haran
The UESPWiki – Your source for The Elder Scrolls since 1995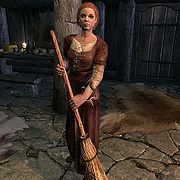 Haran is a Nord citizen in Winterhold. She and her husband, Dagur, run the town's inn, The Frozen Hearth, where she can be found all day long.
She seems to be quite friendly and she will often remark "Just say the word if you need a drink or something to eat." and "We may not have as much to offer as Whiterun or Solitude, but we'll do what we can to make your stay a pleasant one." She also tells you that "If you're here for the College, don't let the folks in town bother you. Just try and keep to yourself."
She will also tell you the story about Ranmir if you ask her: "One night Ranmir was in here like always, drinking himself to death. When I told him there was no more Honningbrew, that he'd drank it all, he got angry. He ranted at me, how I didn't know what he's been through, how Isabelle broke his heart when she ran off with some thief named Vex..."
She will then elaborate further and tell the player that "He said he'd even gone to Riften to try and find the bastard. I think maybe he was hoping they'd just kill him, and that'd be the end of it. Dagur never heard any of this, and I chose to keep it to myself. I'm only telling you so you don't get into trouble. Riften and thieves means trouble. Just leave it alone."
At night, she sleeps in the inn's basement along with their daughter, Eirid. Despite the lack of people in Winterhold, they still get constant business from the nearby College of Winterhold and Ranmir, the local drunk. She is in need of a favor to help get this Ranmir to pay his tab. If you inquire further about his tab she will be blunt and tell you that "He owes this tavern enough coin to burn it down, build it back up, then burn it down again just for laughs. He's had some troubles in his life, but I can't have him drinking here without at least paying back some of the coin he owes."
Asking her why the place is so empty will cause her to remark "You mean the inn, or Winterhold? Suppose it's the same answer, either way. Winterhold's fallen on hard times, to say the least. Most folk packed up and left years ago. A few of us are either too stubborn or too crazy to go, so we do our best to make a living."
[edit]
Related Quests
If you have transformed her into a vampire, Haran will sometimes remark "My brother/sister in darkness. While it's good to see you, we'll keep up appearances, yes?"