Skyrim:Hathrasil
The UESPWiki – Your source for The Elder Scrolls since 1995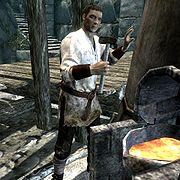 Hathrasil is a Breton citizen who lives in Markarth. He spends most of the day working at the silver smelter alongside his fellow workers. Like many other workers, he sleeps in the Warrens at night.
He will often try to avoid talking to people while at work and he can be heard passing remarks such as "They don't like us talking to people when we work." and "Busy with the smelter." while trying to ignore you.
After you have escaped from Cidhna Mine he will be amazed and often remark "You escaped Cidhna Mine? With Madanach? Everyone in the Warrens has been praising your name." and "What was it like? Cidhna Mine? We've all been talking about your escape. And being pardoned after. Amazing."
He wears a set of miner's clothes and a pair of boots. He is equipped with an iron dagger and carries a copy of the key to Omluag's room, as well as poor loot and gold.
[edit]
Dialogue
Hathrasil may be seen having random conversations with Omluag in Silver-Blood Inn:
Omluag: "Another foul day at the smelter."
Hathrasil: "Mmmhmm."
Omluag: ""Mmmhmm"? I've been working with you for over 10 years, and all you have to say is "mmmhmm"?"
Hathrasil: "Mmmhmm."
Omluag: "Sometimes I think we deserve these miserable lives of ours."