Skyrim:Heimskr's House
The UESPWiki – Your source for The Elder Scrolls since 1995
This article is being developed as part of the Skyrim Houses Redesign Project. If you see this tag it means the article can still be improved. Please see the project page for guidelines.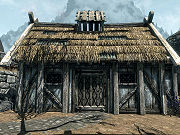 Heimskr's House is a small house in Whiterun owned by the priest Heimskr.
It is located beside the Gildergreen tree, between Jorrvaskr and the Temple of Kynareth. The house consists of two rooms. The first room contains a cooking pot and a chair beside a dull fire, and four chairs slightly to the side and facing a raised preaching area. There are four skulls and some food in the room.
The second room is the bedroom and contains Heimskr's bed, a chair by a table, a dresser, and a chest. On the table is a random high-level potion, and there's a Potent Lingering Poison on the dresser.
During the Battle for Whiterun rubble lands in front of the house, making it impossible to access the house for the rest of the game.
[edit]
NPCs Living Here
[edit]
Related Quests
NOTE:
Some radiant quests have a sizeable list of possible locations. These quests are not placed on individual place pages, and are instead listed at
radiant quest locations
.
The door has a novice lock.
The key to the house is carried by Heimskr.
There is an "Empty" shadowmark to the right of the entrance door, even though the Thieves Guild considers his house to be a wealthy house. The house will not be empty if you are sent here on one of Vex's thievery jobs.
After the Battle for Whiterun, Heimskr's house becomes inaccessible due to debris, forcing him to move to a small camp near Jorrvaskr, or be thrown into jail if you sided with the Imperials.
If given a Thieves Guild radiant mission with Heimskr's house as your target location after the Battle of Whiterun, it will be impossible to complete the objective due to his house being inaccessible.

This bug is fixed by version 1.1 of the Unofficial Skyrim Patch.
You may simply return to the questgiver and quit the current job without any penalties.
Another possible fix is to type coc WhiterunHeimskrsHouse into the console to get teleported inside Heimskr's House. To get back outside, you can simply use the door of the house.