Skyrim:Aerin's House
The UESPWiki – Your source for The Elder Scrolls since 1995
This article is being developed as part of the Skyrim Houses Redesign Project. If you see this tag it means the article can still be improved. Please see the project page for guidelines.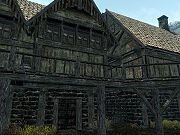 Aerin's House is the home of Aerin and Mjoll the Lioness in Riften.
[edit]
First Floor
To the right of the entrance is a cooking pot. Next to the pot is a long table with chairs at either side of it. On the table are two grilled leeks, one apple pie, two salmon steaks, an Eidar cheese wedge, some baked potatoes, some garlic, a boiled creme treat, two pieces of bread, and a bottle of wine. On the other side of the room is a bench and a large end table with a note titled Request for Help! which asks Mjoll to help with the nightmare problem that Dawnstar has been having. At the end of the room is a barrel and two sets of stairs, one leading to the second story, the other leading to the basement.
[edit]
Second Floor
Behind the stairs at the top there are some barrels and baskets. The first room is Aerin's room and holds his bed, a wardrobe, an end table with a bottle of wine and a tankard on it, a chair and a shelf holding a bottle of wine, a bottle of alto wine, and an iron mace. The second room is Mjoll's room and holds a bench, a chest, a wardrobe, a chair in front of a table, Mjoll's bed, and an end table with a bottle of wine, a tankard, and a copy of Rising Threat, Vol. II on it. Above the bed is a shelf with a bottle of wine and an iron sword on it.
[edit]
Basement
At the bottom of the stairs is a cupboard holding two bottles of Nord mead, two tankards, and one alto wine. Two barrels are found in between some hay in the first room. At the south side of the second room is a table with some mead and gold on it. A chest and a cupboard holding cast iron pots are alongside the table. On the north side there are four barrels. Near the barrels is a basket holding some potatoes and some shelves with cheeses and other food items on them.
[edit]
Residents
[edit]
Related Quests
Note: This location is one of many potential targets for one or more of the radiant quests found on this page.
There is a "Danger" shadowmark to the left of the entrance door. Mjoll the Lioness lives here and she openly voices her disdain for the Thieves Guild, but is otherwise not a threat.