Skyrim:Hrongar
The UESPWiki – Your source for The Elder Scrolls since 1995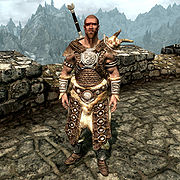 Hrongar is a Nord warrior who serves as a bodyguard and soldier for his brother Balgruuf the Greater, the Jarl of Whiterun. When spoken to he may remark, "I'm not a man, I'm a weapon in human form. Just unsheathe me, and point me at the enemy." He resides at Dragonsreach initially, and so long as Balgruuf remains jarl.
Hrongar wears a set of scaled horn armor with matching pairs of bracers and boots. He is equipped with an iron greatsword, and carries a selection of common loot and gold.
During the quest Dragon Rising, Hrongar will express confidence in you as the Dragonborn, in contrast to Proventus Avenicci, the jarl's steward, who is initially suspicious and skeptical of you.
[edit]
Related Quests
Hrongar was set to replace Balgruuf when the latter is killed by his children during The Whispering Door. However, this part of the quest was not implemented in the final game, so it never happens.