Skyrim:Irnskar Ironhand
The UESPWiki – Your source for The Elder Scrolls since 1995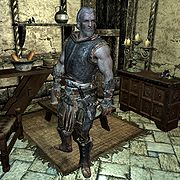 Irnskar Ironhand, a Nord warrior, is a loan shark who lives in Solitude. He is owed a substantial gambling debt by Octieve San, an old Breton who also lives in Solitude.
Irnskar wears a set of iron armor, boots, and gauntlets. He carries a belted tunic, an iron dagger, a key to Bryling's house, and a selection of lower-class items and gold.
[edit]
Related Quests
[edit]
Dialogue
Irnskar may be seen talking with Bryling about her new gown from Endarie:
Irnskar: "My lady, I'm pleased to inform you that you have a new gown for court, specially tailored by madame Endarie."
Bryling: "Really? How did we afford that? Besides, I like the gown I already have."
Irnskar: "Madame Endarie insisted. She made it free of charge, in honor of your lenience about last month's rent discrepancies."
Bryling: "That was suspiciously nice of her. I thought she hated everyone."
Irnskar: "She does, my lady. But apparently, she hates you just a little less than the others."