Skyrim:Ivarstead
The UESPWiki – Your source for The Elder Scrolls since 1995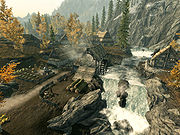 Ivarstead is a small milling town located at the base of the Throat of the World. Pilgrims and travelers often pass through the town on their way up the 7000 steps to High Hrothgar. Ivarstead consists of five buildings and Shroud Hearth Barrow. To the south of town is Vilemyr Inn and Klimmek's house, to the north Fellstar Farm and Temba's sawmill, and across the river is Narfi's broken down house. Just east of Ivarstead lies the Barrow, which many of the town's residents believe to be haunted.
*Moves to Riften after The Book of Love.
[edit]
Related Quests
[edit]
Miscellaneous Quests
If Hearthfire is installed, you can find one clay deposit southeast of Narfi's broken down house and one stone quarry west of it.
After the main quest is over, if you look up at the Throat of The World you may see the dragon Odahviing flying around.