Skyrim:J'zargo
The UESPWiki – Your source for The Elder Scrolls since 1995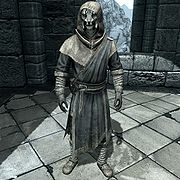 J'zargo is a Khajiit sorcerer and an apprentice at the College of Winterhold. He is one of several apprentices encountered soon after joining the College and plays a minor role in some quests in the main College questline. He is ambitious, asking often about learning and artifacts that will make him a more powerful mage.
J'zargo initially comes across as very conceited or even arrogant, but he is not completely above asking for your help (see quest below). Once you aid him, he is willing to follow you.
Given his philosophy on competition, a less charitable interpretation of this quest is that he is actually attempting to eliminate a rival, i.e. you, using customary Khajiiti cleverness. Having survived the ordeal and become powerful in your own right, you earn his respect. You may even confront him about this supposed plot, which he of course fervently denies.
J'zargo wears a set of novice robes of conjuration, a novice hood, and a pair of boots. Early in the day, he goes to the Hall of the Elements to practice spellcasting. At 2pm, he will retire to the Hall of Attainment.
J'zargo is eligible to become a member of the Blades.
The first time you speak to J'zargo, he will question your ability in Destruction magic. If you have the Expert Destruction perk, you are able to answer in the affirmative:
J'zargo: "You are new, yes? Have you mastered the Expert level destruction spells yet?"
Player: "Yes, I have."
J'zargo: "You... you have? Already? Well, J'zargo is surprised. And pleased! There is real competition here. This is good."
[edit]
Spells
J'zargo knows the following spells:
As a follower however, he will only use the spells marked with an asterisk(*).
[edit]
Related Quests
J'zargo is one of only two Khajiit followers available in the game, the other being Kharjo.
J'zargo is one of few followers who has no maximum level. He will continue to level up with you.
If J'zargo has not been given any weapons by you, he will equip a bow and arrow when not in combat but use only spells in combat.